Adorable Dollhouse Shelf: The fairy doll house book case design is perfect for the kids room, you can make it as a stand alone case or incorporate it into a bed head or bed end!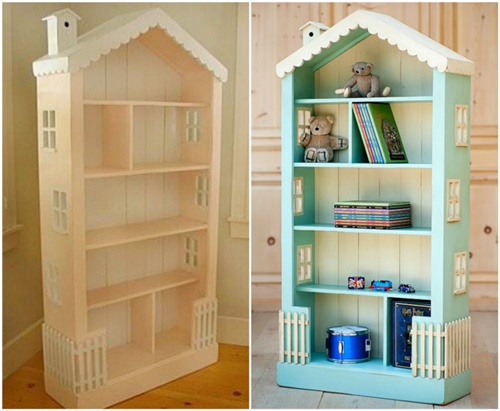 Adorable Dollhouse Shelf Via Fab Art DIY
DIY Kids Play Table:  This DIY play table is the perfect solution for storage problems. It's basically a "make your own" wee little picnic table and it's perfect for coloring and other arts and crafts. Plus, when you add stools that have storage in them, you get the perfect place to keep all those coloring books and even Play-Doh and other toys that are often a bit messy.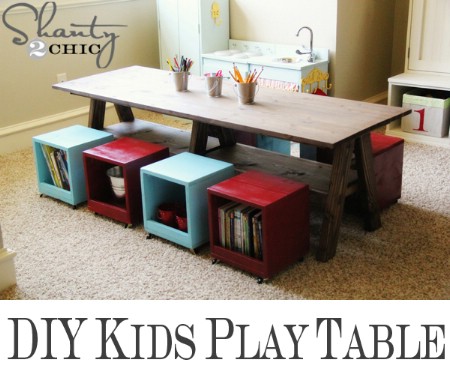 DIY Instructions Via Shanty-2-chic
Whimsical Animal Storage Jars: use old jars with lids to create whimsical storage jars to store craft supplies. These are great for crayons and other craft supplies or you could keep puzzle pieces, small cars or dolls or anything rather small in them.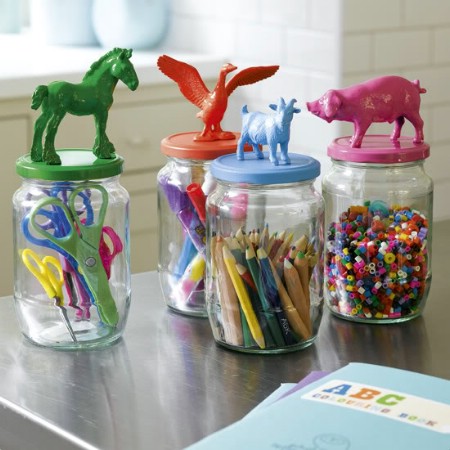 DIY Instructions Via Coolmompicks
Mounds of Buckets: These plastic buckets are all tied together to create a wonderful mountain of storage. It is a really cute idea and decorative for room. You just need plastic buckets and some zip ties to hold them together. It's a great little storage unit that is perfect for keeping toys off the floor plus the toys are really easy for little ones to reach.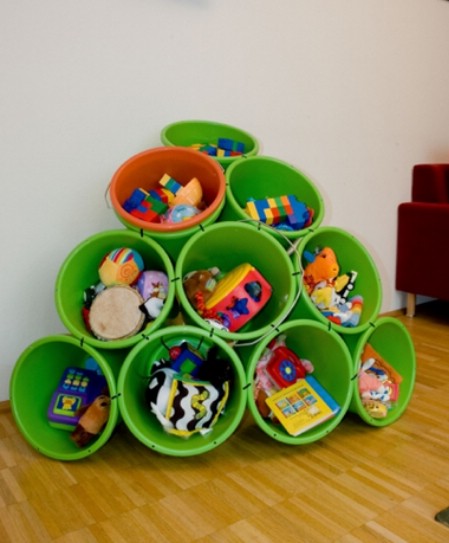 DIY Instructions Via Blog.al
Pegboard Organization: If your kids need extra storage, pegboards work perfectly and for many reasons. You can use them to keep papers and other similar items neatly off the floor but even better, you can attach baskets to them to hold smaller things like crayons, pencils, small cars and dolls, and just about anything else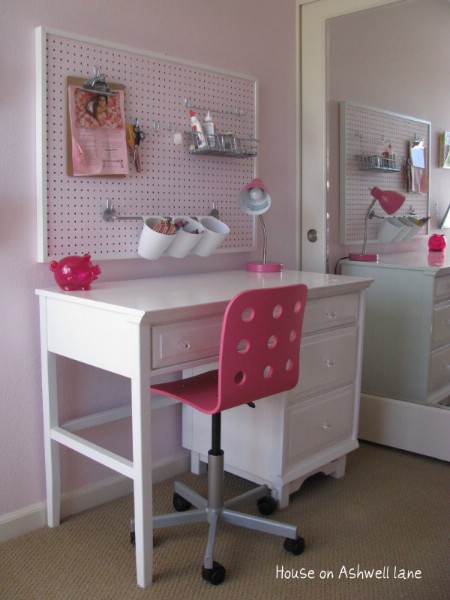 DIY Instructions Via Houseonashwelllane
Corner Twin Bed with Simple Storage Bins: Tuck storage bins under bed for additional space, and this twin bed with shared head storage space is really an ideal solution of twins or two kids.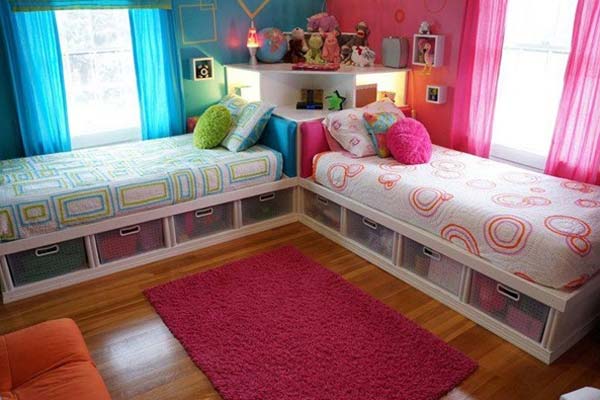 DIY Tutorials Via FAB Art DIY
Simple Square Cardboard Organizers:make full use of each drawer of the dresser,  use small square drawer organizers from The Container Store and add labels using simple scrapbook paper and a silver plate from Martha Stewart to mark the organizers for each day to seperate "outfits for the week" .
DIY Instructions Via: askannamoseley.com