Don't hesitate to check out our fairy pumpkins, and so many Halloween decoration ideas and party treats that you won't miss, just click the link and you will get inspired for your Halloween party more exciting this year. Halloween is a big celebration for kids in a year, though we really don't want kids to have so many sweets, we need this excuse to make spooky fun sweet treats for them, and us, too. We're positively batty for these wickedly good, incredibly tempting, party-ready Halloween treats that we can make and have fun together.  The easy to DIY Halloween decorating list is an fabulous collection that you should definitely go check out, The party snacks and treats and the ghosty lollipop design are just fun and spooky for any kids party. A Halloween cake is also necessary for a Halloween party treats after dinner.  Enjoy your sweet treats. 
You may also love: 30+ Healthy Halloween Snacks Recipes for Party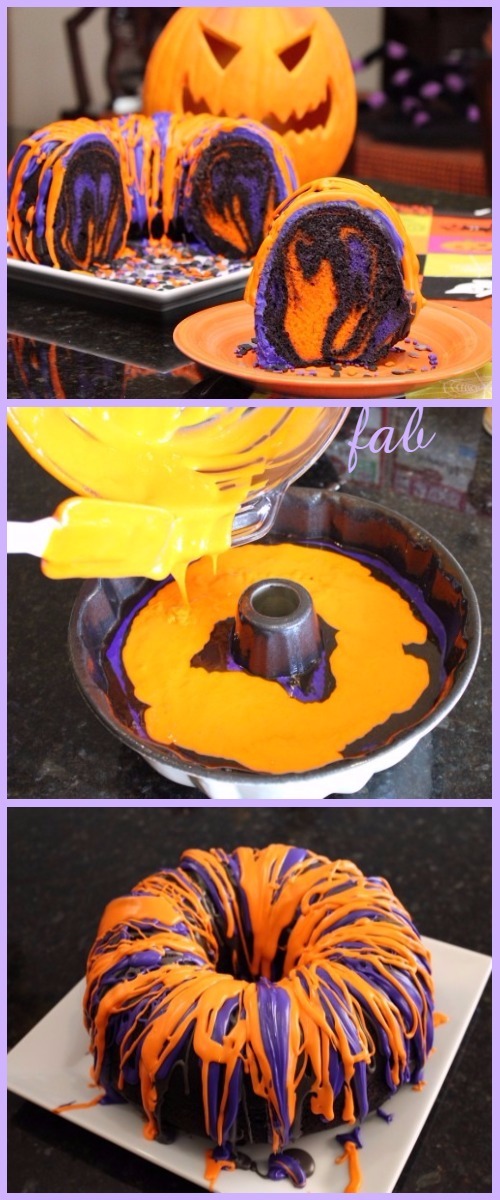 This spectacular Halloween rainbow party bundt cake is perfect with its color mix for Halloween night. To make it first make batter with one box of chocolate cake mix according to the instructions and add a bit of black food color to it. Then make batter with a box of white cake mix and divide it in two parts. Color the first part orange and the second purple. After that pour half of the chocolate cake batter in the cake tin. Pour the purple batter over its top without disturbing the layers. Pour the orange batter too followed by chocolate batter. Bake the cake in the oven and let it cool down when baked. Melt some frosting and divide it in three parts. Color each part in black, orange and purple color. Take the cake out of the pan and drizzle the frosting in three colors over it.Head over to cooking with sugar for detailed tutorial: Amazing Halloween Rainbow Party Bundt Cake Recipe. 
You may also love DIY Halloween Costume Tutorials for This Halloween for your whole family.
Here is the video:
Video: CookingwithSugarTV