The Nifty Puff Newsboy Hat will be the hottest hat you will love to make! You may love some crochet hats for Winter, we have quite a bunch of them on the site. Puff stitch is one of the most versatile stitch that can be combined with different colors in one project. This crochet hat pattern is designed to keep you covered in the brisk winds of fall and winter. Not only will it protect your hair and ears, you'll look super chic, too. Learn how to work up this free crochet pattern. Wear this hat out on walks around town. You'll sure to turn heads. Of course written instructions all make this pattern easy to follow for any intermediate crocheter.
You may love: Wynn Beanie Hat Free Crochet Pattern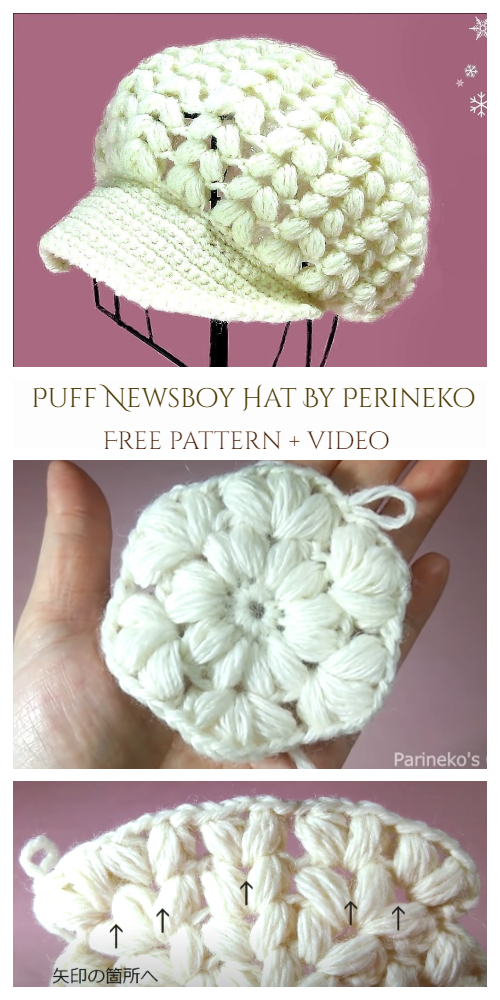 Written Pattern by fabartdiy, check video for details.
Yarn Bulky with 4.0mm hook
R1: sc *12 into magic ring
R2: ch2, (4hdc puff stitch, ch1) * 12
R3: (4hdc puff stitch, ch2, 4hdc puff stitch, ch2, 4hdc puff stitch, ch1 in same st, skip 1) * 6
R4: ch2, (4hdc puff stitch, ch2, 4hdc puff stitch, ch1 in same st) * repeat
R5: ch2, (4hdc puff stitch, ch2, 4hdc puff stitch, ch2, 4hdc puff stitch, ch1 in same st, skip 1, 4hdc puff stitch, ch2, 4hdc puff stitch, ch1 in next st) * repeat
R6: ch2, (4hdc puff stitch, ch2, 4hdc puff stitch, ch1 in same st, 4hdc puff stitch, ch2, 4hdc puff stitch, ch1 in next st, skip 1, 4hdc puff stitch, ch2, 4hdc puff stitch, ch1 in next st, ) * repeat
R7-8: ch2, (4hdc puff stitch, ch2, 4hdc puff stitch, ch1 in same st, skip 1) * repeat
R9-15: ch2, (4hdc puff stitch, ch3, 4hdc puff stitch, ch1 in same st, skip 1) * repeat
R9-15: ch1, sc into each slot * 72, slip and fasten off
Brim:
R1: Skip 18, ch1, (sc*4, sc increase)*7, sc*3
R2: turn, ch1, skip 1, sc*42, sc decrease
R3: turn, ch1, skip 1, (sc*5, sc increase)*6, sc*4, sc decrease
R4: turn, ch1, Skip 1, sc*43, sc decrease
R5: turn, ch1, skip 1, sc*41, sc decrease
R6: turn, ch1, skip 1, sc*39, sc decrease
R7: turn, ch1, skip 1, sc*37, sc decrease
R8: turn, ch1, skip 1, sc*35, sc decrease
R9: turn, ch1, skip 1, sc*33, sc decrease
R10: turn, ch1, skip 1, sc*31, sc decrease
R11: turn, ch1, skip 1, sc*29, sc decrease
R12: turn, ch1, skip 1, sc*27, sc decrease, fasten off
reverse single crochet as edging around