Mandala is amazing, originated from Indian, indicating Universe, and spread into other cultures and religions, especially by Buddhism when mandalas has been developed into sand painting. We still can see some of these mandala sand artworks through the website. I have shared painted mandala tutorial, and today this DIY Mandala Bookshelf By Jessica and Sinclair is super striking that you would love to give it a try on your wall. Jessica measured the wall space, took the inspiring picture with her and went to the graphic arts teacher that worked at the same school as her. With his help they soon knew what size panels to order and after spending $900, they had everything they needed to start building, and the result is so fabulous. I have a collection of brilliant DIY Shelves to Beautify Your Home with tutorials you can't miss. Most every shelving project onsists of the same straight lines and horizontal shelves, and this mandala pattern would be fit your wall on a much smaller scale or even a much larger scale depending on your space.
You may love: DIY Bookshelf Chair for Book Worms
Read more: Couple Saw This DIY Bookshelf Design Online, But They Had No Idea It Would Turn Out So Good
I once saw it from Apartment therapy of this shelf design, yet without no tutorial. I wish there is exact measurement available, I hereby share an easy box shelf tutorial for your guide, wish you can figure out the size, or if possible, draw it on paper with the design and enlarge the ratio accordingly.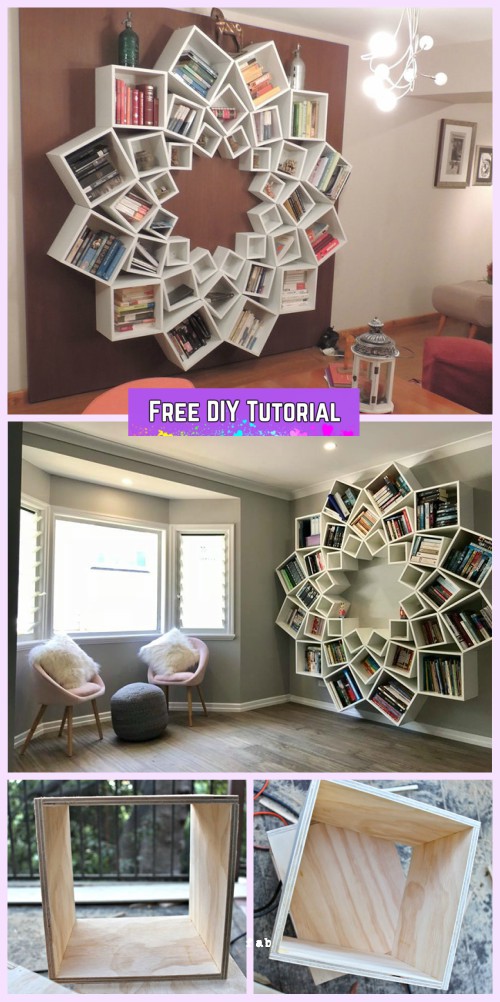 Click the link here for the crate box tutorial: DIY: Crate Shelves