How To Sink A Trampoline In The Ground? if you are looking for Fun Backyard DIY Projects for Kids. You can think about making this project. My girls love trampolines, ever after go to the gym and will climb to any trampoline at the first sight of seeing, they just can resist it. A year ago, the gym changed its trampoline and bury two rectangle ones which make the whole room spacious at one. This makes me think why don't we do the same in our yard?! A sunken trampoline can be a favorite family garden feature. It's a simple, safer, less intrusive and popular with everyone. You can buy the following 12′ In-Ground Trampoline by In-Ground Trampolines here.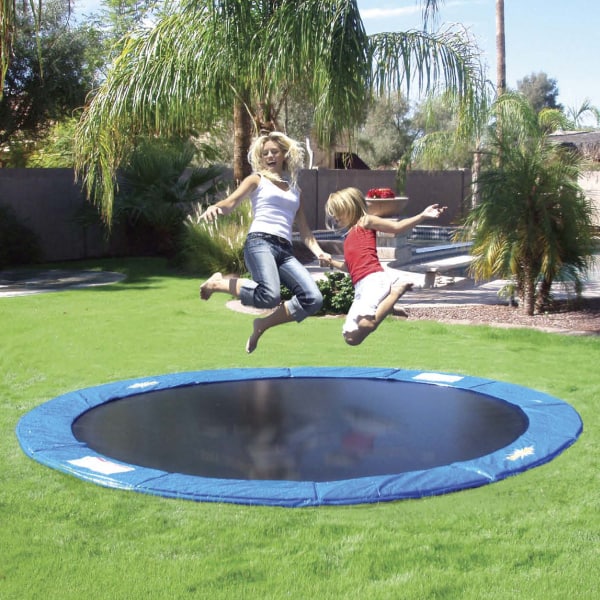 Image:  familyleisure.com
The sunken trampoline you do not need a trampoline safety enclosure. We almost toss our old one or maybe change it into a trampoline chicken coop as we featured, but not sure till now. We can recycle and bury in ground so we don't need the net enclosure. We can even add Pool Noodle Trampoline Springs to safe guard the kids while jumping. Or buy this one from Amazon
In-ground Rectangular Trampoline with Patented Safety Net Cable Wire Enclosure System, after get your trampoline ready, it's time to choose a perfect spot and start digging…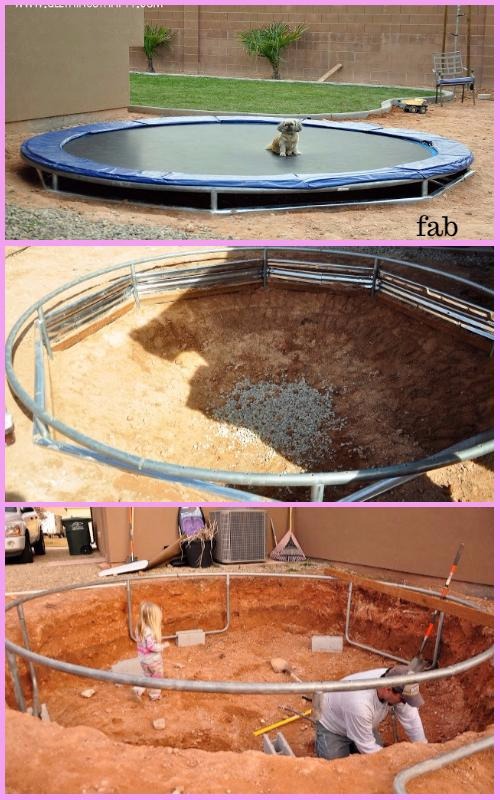 You think it is easy to do but don't attempt this for back pain, because you have to dig out a lot of soil, go find a digger can save you a lot of work. Check out the tutorial from  allthingsthrifty.com here.