Looking for crochet blankets for little ones? I have a fab roundup of40+ DIY Knit & Crochet Baby Blanket Free Patterns you can check them out. While are your going to try something new? Or maybe not new for you. 😛 Have you ever tried Corner to Corner crochet (C2C)? Many of us crocheters has the fun to create different graphs using each c2c pixies, creative and challenge, with satisfaction. This Southwestern style throw I am going to share today is a special throw that with beautiful color combination. This design looks really challenging, but it can be easy after you learn how!  If you've gotten the hang of C2C crochet, and you can follow along a graph, this blanket is not going to be hard for you. Be sure not to get your yarn tangled? Try our tips of Household Yarn Holders. lol…
C2C is a crochet style which uses graphs to make patterns or designs in the crochet, arranged into small blocks. It's often used to create very colorful or pictorial designs. Usually, you don't get a full line by line tutorial as you might for a regular pattern because the stitch is easy and repeats for every block. But you do get a graph which shows which block should be in which color. Somethings the corner to corner blankets are called 'graph-ghans' because you follow the graph to make them.
You may love: Crochet Snuggle Up Blankets With Sleeves Free Patterns (Baby to Adults)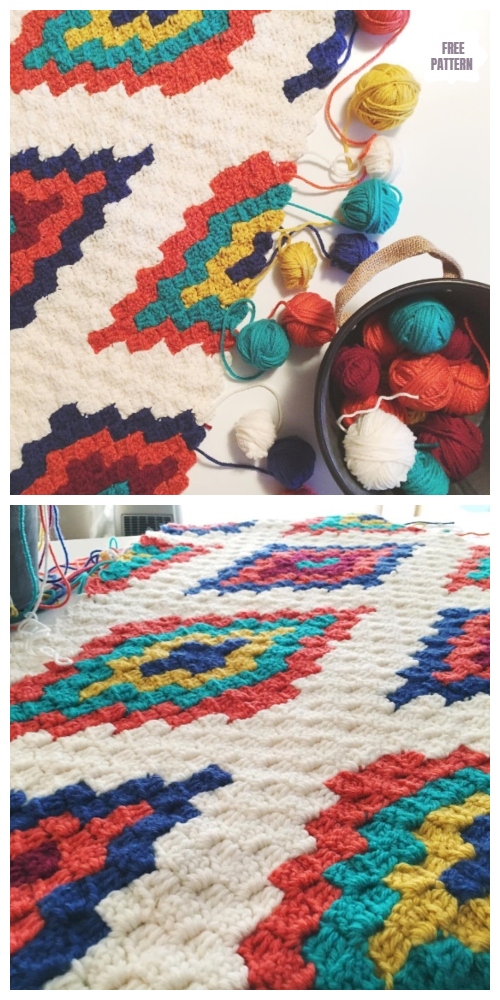 Click here for the free graph download: SOUTHWESTERN STYLE C2C GRAPHGHAN
There is video guides included in the link above, and if you prefer the written tutorial,  Jess from Make and Do Crew has a great article on showing you in steps.
Click here for the free tutorial: